The mockup is ready, the pitch went well, and your client is waiting for everything to fall into place. You think everything is good to go, until you realize there's still so much to do.
Web development can be time-consuming, especially when your clients start with a clean slate. Content and logo creation requires thorough conceptualization and revisions as much as web design—and this is where most web development project takes time. This doesn't always have to be the case, though.
We have the solutions to your web design needs. We provide high quality websites at a fraction of the cost and time it would usually take to complete.
Introducing complementary solutions you can leverage during the sales process – the Web Design and Local Starter Bundle.
Web Design Starter Package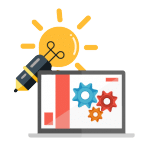 Our premium Web Design Starter provides the ammunition you need to launch websites with quality content and customized logos. We've added more value at a discounted price of $699.
This starter package includes 5 pages of 350-word content created by our experienced writers. This also includes creative and original logo designs that are available in multiple formats by our professional in-house designers to give your client an edge.
More than that, we've included one month free website maintenance after the initial development, so you can provide your client with true added value.
Local Starter Bundle

Our web design services are only the tip of the iceberg. After all, what is a website without traffic? To complement our Web Design Package, we offer our Local Starter Bundle—the most affordable package with value-adding features in the market.
Our Local Starter Bundle includes the Facebook Local Package, giving your clients a much-needed boost for new foot traffic to their business. Campaigns also come with Basic SEO, establishing your clients' online presence with up to 5 keywords and providing active directory integration. Get this solid social and SEO strategy for only $349/month.
A Winning Combination
With our Web Design and Local Starter Bundle, we bring you a winning combination that creates a streamlined path to success for both you and your clients.
Interested in our web design outsourcing services? Call our toll-free number at 1-800-250-6106. We'll walk you through every solution.